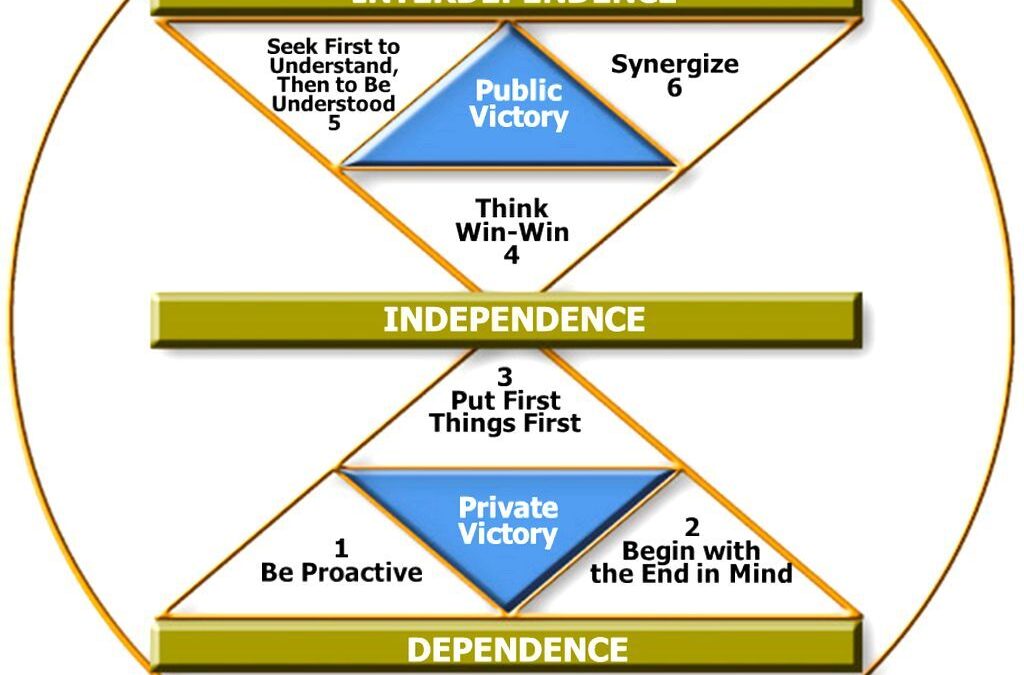 7 habits of highly effective people
7 habits of highly effective people was a book written by Stephen R.covey. The book was first published in the year 1989 A.D. It is one of the most popular self-help books that helps people in many ways. In this book, he describes the seven habits which are the traits of effective people, and those people stay ahead of everyone. 
In this book, the author describes effective people as those who can attain what they wish while balancing various elements that will produce those results. One amazing thing that the other does is that he expressed effectiveness in terms of p/pc ratio, where p is the getting desired results and PC is caring for those that will give those results. 
Among the 7 habits of highly effective people mentioned in the book 7 habits of highly effective people the first 3 lie inside the category of independence while the other three lie in the category of interdependence and the last one is the method to maintain the achievements obtained by these six methods.
Independence
The state of being free from all kinds of control, support, and manipulation is called independence and for this one needs mastery over oneself. In the book, 7 habits of highly effective people three habits fall into the category of independence and now let us look at those habits individually.
Be proactive
Whether we want it or not we are always inside a situation. With many people, with few people or by oneself we are always inside a certain situation and our actions matter. Whether we take action or we are forced to take action there is no other way. By being proactive one creates the situation or responds to the situation in such a way that they create a favorable environment for them, instead of reacting to the situation created by others which is favorable to them proactive people create their situation good for them.
Begin with the end in mind
This is the second habit among the 7 habits of highly effective people. This tells that always have a definite goal in mind and work your way towards it. Hard work is important but so is the goal, without a proper end or mission, the question arises is hard work to where? When one begins with an end in mind, they have a proper destination to where to go. Think hard before you act and then after forming a proper goal move towards there.
Put first things first
This is the last of the independence part of the 7 habits of highly effective people. This is the process of deciding what is important and what needs to be done immediately, what is important but can be done with time and later, and what does not need to be done and is just a distraction. One needs to sort out their priorities and act similarly. Decide what you need to do now and here while what needs to be done at another time.
Interdependence
This is the second category of the 7 habits of highly effective people and contains 3 habits within them. While independence was the work within, it is the work with others.
Think win-win
This is the first among the interdependence habits of highly effective people. In every partnership and relationship think a way that is a win-win situation for all the parties involved. When only one party gets their desired result, this may end the partnership and cause a rift between them. However, if a way is decided where it is win-win for everyone there will be better corroboration and a better path towards the goal where everyone will be satisfied.
Seek first to understand, then to be understood
This is a power move that is one of the ultimate qualities of highly effective people. When one seeks to understand other than being understood oneself, he/she creates a positive environment and even understands the mindset of the people. It also allows one to know if people are worth their time or not and value their work and the positivity they present to their surroundings. This also involves better problem-solving relations between all the parties involved.
Synergize
The key strength of human civilization compared to the other species in the world is their ability to work together and combine their strengths. Various tasks in the world cannot be done alone. Some can be done alone but compared to that there are mountains of tasks that need a huge number of people to do. We have survived till now thanks to the ability to work together. To be able to work with others effectively by combining their energy with a positive environment and energy is one of the ultimate habits of highly effective people.
Sharpen the saw
This is the final habit of the 7 habits of highly effective people. Above here were the elements that provide effectiveness within the people, now this step is balancing all the elements that will give the maximum benefit. Every individual needs to balance their energy and control the distribution of their resources in such a manner that it provides maximum benefit and gives the long-term result.