One Week Rejuvenating Yoga Retreat in Nepal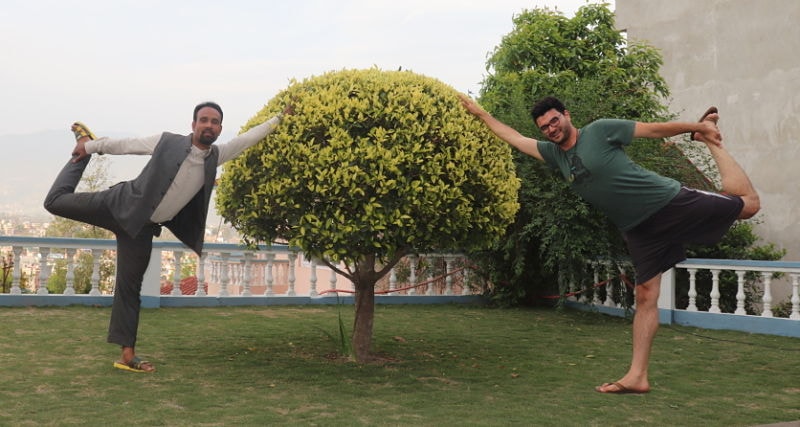 You are invited this rejuvenating Yoga Retreat to reconnect to the sacred peace within you. In this one week period Asana (Yoga Pose), Pranayama, Meditation, relaxation, chanting etc. are taught. Through this knowledge, you will learn how to make yourself healthy and peaceful. You will also get an ability to suggest other a healthier path of life. One week rejuvenating Yoga Retreat is suitable for those who do not have maximum time but want to learn the effective technique of yoga and meditation under expert teacher (Guru).
This one week rejuvenating Yoga Retreat course has offer asana, pranayama, meditation, chanting, philosophy, relaxation and plenty of refreshment time. It is inspiring course to turn your life from negative to positive direction.
In Patanjali Ashtanga yoga, there are eight paths- Yama, Niyama, Asana, Pranayama, Pratyahara, Dharana, Dhyana, and Samadhi. These all eight paths of yoga are taught thoroughly. Besides, you will learn a practical approach to follow the path of yoga. So, the package is an ideal combination of both theoretical and practical. This is favourable for both beginner students (who new for Yoga practice) and intermediate (who has been practising yoga).
The beginner students will get a new technique in their life to lead happy and healthy life. The intermediate students will deepen their practice. They learn some additional things from the motherland of Yoga (Nepal). This one week package will conduct on yogic environment and yogic-atmosphere which naturally gives a better realization and peace. This area is full of natural beauty, situated at the base of Sivapuri-Nagarjuna National Park. It is free from external sound and disturbance. So, practicing yoga over here is highly favourable.  If you like you can visit and enjoy this forest. It is somewhat mountainous and hilly. You can enjoy the greenery and pure atmosphere.
Yoga practice in a completely natural environment has its own importance. It makes the mind peace and body active. It enhances the habit of practicing yoga weakening your undesired habits. After a week practice, you will feel yourself a better person, a healthier person, a happier person. If your health condition feeble, you will find a stronger health condition after the retreat. If any person has a habit of taking cigarette, alcohol or drugs, then such habits have been found to be weaker. It is our past experiences, which was known from their feedbacks.
Nepal is a dreamy place for all yoga seekers. Nepal Yoga Teacher Training and Retreat Center (NYTTRC) is unique yoga ashram in Kathmandu for your life-changing experience! Even if you have short time period with us this yoga and meditation course is potential to improve health and happiness. This one week rejuvenating Yoga Retreat course helps to encourage you towards healthy life through yogic principle and philosophy. Our classical and research base yoga classes are conducting by very good yogis who are very supportive to enhance your strength and flexibility.
This one week relaxing and rejuvenating Yoga Retreat holiday will be held Kathmandu, Nepal in the foothills of the Himalaya. The Rejuvenating Yoga Retreat course is perfect for those who are searching for a week-long yoga holiday. This one week yoga and meditation retreat course will bring you great change on a physical, a mental and emotional aspect of life.
Highlights
Daily yoga sessions
Guided pranayama and meditation sessions
Daily breakfast, lunch, dinner, and drinks
Gorgeous, intimate location with jungle, countryside and Himalayan views
Breaks for relaxing, walking, therapies, and exploration of Kathmandu city.
Free Wi-Fi
Schedule
Our week-long rejuvenating Yoga Retreat program includes two-morning class and two evening class rest of the day you can visit Kathmandu city or you can relax reading, hiking or self-practice. Morning two classes are focused on Asana and pranayama/meditation and evening classes are Asana/pranayama and philosophy/chanting class. Your days start with yoga asana and go through meditation or pranayama and on the daytime, you will get relaxing free time to explore beautiful Kathmandu city then in evening you will enjoy to asana/breathing and philosophy or chanting with an expert teacher.
This is sample schedule but it could be changed according to climate, teacher, topic and circumstances.
Day First of one week rejuvenating Yoga Retreat
12:00 Arrival and check in
12:00 to 2.00 welcome tea and  refreshment
2.00 to 3.00  lunch
4.00 to 5.00 Asana and pranayama
5.00 to 5.30  tea break
5.30 to 6.30 Yoga philosophy/ chanting
6.30 to 7.30  Dinner
Other days
8.00  Weak up
8.00 to 8.30 tea and refreshment
8.30 to 9.30 Yoga Asana
9.30 to 10.30 breakfast
10.30 to 11.30 relaxation and meditation
11:30 to 2.00 free time/ hike/ self-practice/  reading
2.00 to 3.00  lunch
4.00 to 5.00 Asana and pranayama
5.00 to 5.30  tea break
5.30 to 6.30 Yoga philosophy/ chanting
6.30 to 7.30  Dinner
Last day of one week rejuvenating Yoga Retreat
8.00  Weak up
8.00 to 8.30 Tea and refreshment
8.30 to 9.30 Yoga Asana
9.30 to 10.30 breakfast
10.30 to 11.30 relaxation and meditation
12.00 check out
Advance booking and cancellation policy
A reservation requires a deposit of 50% of the total price.
The deposit is non-refundable, if the booking is cancelled.
The rest of the payment should be paid on day of arrival
What's included?
Yoga and meditation course
Lunch, breakfast and dinner
Accommodation
Service charge
What's not included
Airfare
Airport transfers
Laundry
Additional food if needed
Sightseeing or traveling around Kathmandu
How to get there
Please visit our website in FAQ menu