Yoga Training in Kathmandu
---
Nepal Yoga Teacher Training and Retreat Center offers the desired and customary courses for the aim of conducting the yoga training in Kathmandu for all the yoga seekers from all around the world.  For the seer intention of spreading and deepening the study of yoga to the world. So that Yoga training is established in NYTT & RC.
Yoga Training in Kathmandu is popular among many people of Kathmandu Valley because of its work. Our goal is to unfold religious awareness and transformation of life through yoga and meditation. In spite of the cast, race, age, gender, nation, creed and faith one follows, we tend to hearty welcome for the sacred and pure individual path of your own consciousness and awareness by following the trail of yoga and Hinduism lifestyle.
We asserts that teacher training courses do not seem to be bearly just for the sake of changing into an instructor. Despite the fact that they are primarily designed for keeping the actual fact in mind. To awaken and enlarge the spectrum of yoga, We have inclined to expand its horizon by providing opportunities for training and research programs.
Not forgetting the very essence of yoga that it is an integral part of life, we have continuously been acting in kindling the sparkle of spirituality and awakening to the people instead of simply be a mere school to deliver some designed programs. With our heart and heads, we tend to decide and devote our greatest possible effort to form your journey of inner-awakening and inner-exploration a lot of fruitful and joyful.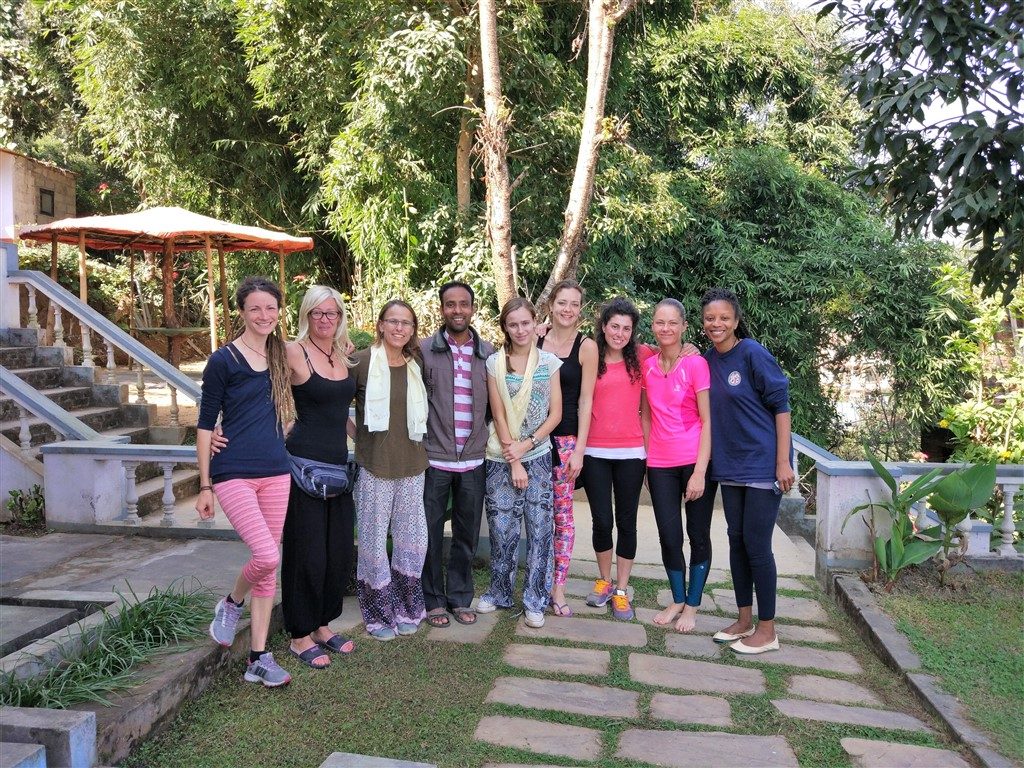 Courses of Yoga Training in Kathmandu
---
Nepal Yoga Teacher Training and Retreat Center provide you beginner to advance level yoga training in Nepal. Some join the yoga training in Nepal for their interest and to increase knowledge. If you want to start your career as a Yoga Trainer then you can join. If you have knowledge about yoga and want to enhance more knowledge about Yoga training in Kathmandu then remember us for your betterment. Hence here are some courses listed below which Nepal Yoga Teacher Training and Retreat Center provide to the trainee:
Services
---
Beyond the courses, Nepal Yoga Teacher Training and Retreat Center provide you with some services. Nepal Yoga Teacher Training and Retreat Center believe that providing knowledge and training is not enough during the training period. So that Nepal Yoga Teacher Training and Retreat Center provide some facilities and services in Yoga training in Kathmandu to the trainees so they will feel comfortable and gain interest to do better. You are training hard but not getting any facilities then you won't be happy and show interest in training. Due to which Nepal Yoga Teacher Training and Retreat Center provide some facilities :
Clean and web rooms filled with religious surroundings.
Peace and quiet place connected to Nagarjuna jungle.
Open garden space for individual meditation/practice, rituals.
Internet and Wi-fi services.
Organic fruits and vegetable product in own garden.
The rooms we provide are all attached bathroom, wooden parqueting, Air conditioner room.
Everyday room cleaning service.
Full views of Kathmandu valley.
Workshop rooms for the cluster.
Just 10 kilometer far away from the international airport and 5 kilometers far away from tourism hub Thamel.
Pick up and Drop service on request.
Full of natural beauty and recent airflow every movement.
We also supply different courses by special requests to teams of 10-20 peoples that should be scheduled ahead. You'll come back for one night or keep many weeks, it's up to you.