two weeks de-stress yoga retreat class in Nepal 
---
Most of the human population has fond memories concerning their childhood. As adults, the one thing that we hear most of the time, is 'childhood was not stressful'. This statement is valid too as when we were kids, we did not have any worry in the world. We would spend the day playing, eating, and sleeping. Ah! Those were the days. As we grow up, the burden of life starts to weigh down, and soon childhood transitions into adulthood where handling responsibilities is a daily norm.
As we forge ahead in life, stress becomes the new normal. Some are good at handling it and some even thrive in them whereas there are such people who crumble under it. If you belong to the latter category, then fret not, we have the exact solution for you. Nepal yoga teacher training and retreat center, brings you the two weeks de-stress yoga retreat class in Nepal where the primary focus is to learn techniques to keep stress at bay. You will be thoroughly guided by our seasoned teachers. Once you complete the session, you'll be much adept at handling and conquering stress.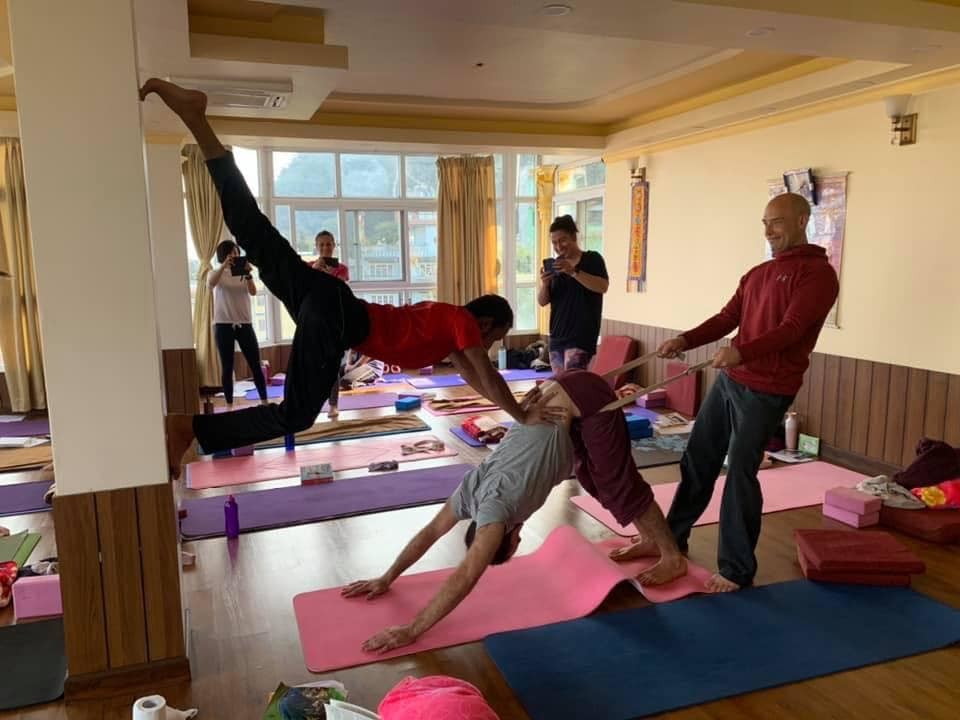 Our readers must be intrigued to learn about these amazing two weeks de-stress yoga retreat class in Nepal. Thanks for the enthusiasm and without further ado, let's dive into the subject matter. In these two weeks, you shall learn about the various poses/asanas that make up the building blocks of yoga. Our readers are most concerned if prior experience in yoga is needed.
This course can be taken by professionals and novices alike. The course is catered in such a way that it not only provides you the necessary knowledge but gives you techniques and procedures to reduce stress. There is more to poses/asanas than you think. You will be taught in brief as to how these poses came into existence and its application. 
Along with technical knowledge, you shall learn about the conceptual framework and ideology of yoga in these two weeks' de-stress yoga retreat in Nepal. You might have heard or even practiced meditation at some point in your life. Let's face it, it might not have turned out the way you wanted it to.
It is a great tool to alleviate stress. In this retreat, you will be taught about the various types of meditations and how each of them affects the body. The tutors shall provide you guidelines as to how to properly meditate and connect with the spiritual entity. Ayurvedic massage proves beneficial in relieving stress and tensions accumulated in the body. During your time in the retreat, you shall take part in the massage sessions that will greatly help in reducing the stress that is built up in your body.
The daily schedule or itinerary of these two weeks' de-stress yoga retreat in Nepal will be final when the admission process is completed. The teachers and staff that you will interact with are very friendly and will do their best to fulfill any problems and complications that you might face. If you are looking for a solid fix for your problem, then this is the place to be. So, pack your bags and come to Nepal for an ethereal experience.   
Other courses on Extra costs: