21 days peaceful yoga retreat class in Nepal
---
Maybe you are looking for the Nice yoga retreat center, luckily, we are here for 21 days peaceful yoga retreat class which added benefits to cherish and a lifetime experience of yoga.There are times when you might have felt that, "I need a break or It's been long since I last took a vacation". Mostly all of us are plagued by the same thought. The thought differentiates when people decide which type of getaway they plan to use. People living in urban jungles tend to travel far where the sun is warmer and the air clearer/healthier.
Thrill-seekers find themselves locking horns with mother nature. They can be seen scaling the rugged mountains or conquering the roaring river rapids. There is a certain species of people that thrive in serenity and solace. These species are rapidly increasing in number and are spreading serenity and bliss. They go by the name of yoga fanatics and usually, their great escape comprises traveling in a serene environment to practice what they cherish the most, "Yoga".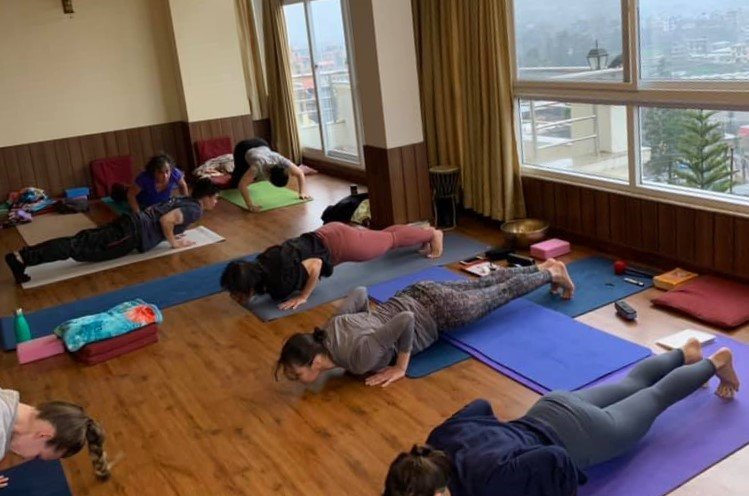 Nepal yoga teacher training and retreat center has been organizing numerous yoga teacher training courses in the country and is considered to be a front runner in the field of yoga and Ayurveda. Not only do they provide unparalleled yoga teacher training, but they are also a favorite spot to relax and blow off some steam. The idea behind this 21-days peaceful yoga retreat class in Nepal came into existence when one of our teachers suggested that it is better to learn something new while relaxing as there is no pressure.
Our readers might be wondering, if a yoga retreat is the vacation of choice, then why should we go to Nepal? There are other places too where we can visit. To answer your question, let's head into the past of yoga or how it came to be. The earliest mentions of Yoga and meditation can be found in historic texts like the Mahabharata and the books of the mighty sage Patanjali.
There are numerous ancient texts which state that this divine practice was passed down to humans by the Gods themselves. Yoga is greatly embedded in Hindu culture. As most of the Hindu culture, philosophy, and religion developed in South Asia, namely Nepal and India, it makes sense to learn yoga where it developed and flourished.
Now that you have understood that it is sensible to indulge in the 21 days peaceful yoga retreat class in Nepal, you might be wondering, "there are other retreats too that provide similar facilities. Why should I choose you?" That's a tough question and we don't have a straight answer. So, let's take a look at the facilities that we offer you and after going through it, you'll be asking other question but this time, you'll be asking it to yourself and that is, "Why shouldn't I choose you?"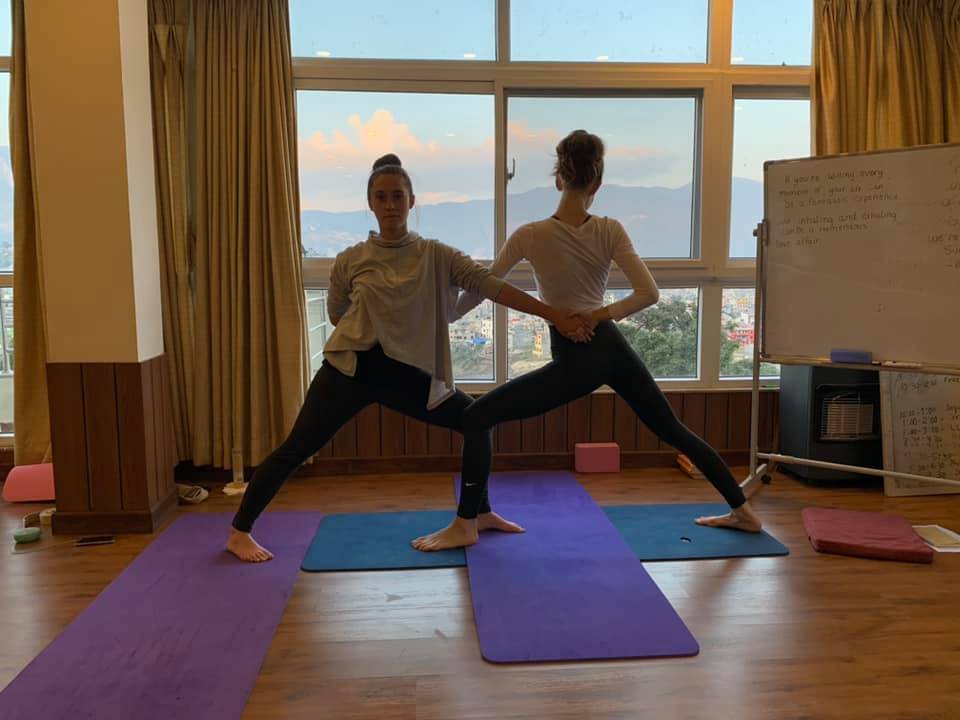 Asanas/Poses are the fundamentals of yoga and in these 21 days peaceful yoga retreat, you will learn more than 100 such poses. You will learn the usage of such asanas along with its limitations and applicability in daily life. Meditation is a core concept in yoga that helps in the spiritual awakening and connects the human mind with the spiritual entity. Our teachers will greatly guide you in this field and help you to discover your true self. You will be enlightened with the various topics of meditation as well.
Yoga does not mean only poses and asanas. There is a theoretical aspect in yoga that needs to be covered too if one were to become a pioneer in it. During your time, you will be well acquainted with yogic philosophies, mantra chanting, and its application too. You will also understand the importance of healthy eating habits and quality food.
In brief, these are the matters that will be dealt with during the 21 days peaceful yoga retreat class in Nepal. So, what are you waiting for? Make this yoga retreat your next travel destination immediately!
Schedule of Yoga Retreat: 
You will get altogether 4 yoga sessions in a day in different dimensions of yoga-like asana, breathing, meditation and philosophy. The class schedule might be different for different months but we will give you the schedule before a day.
Other Activity you can join on extra cost:
Yoga Trekking to the different Himalayan regions like Annapurna base camp, Everest base camp, Everest Monastery, Annapurna Century yoga trek.
Singing bowl Training and Healing
Yoga Alliance certified Yoga Teacher Training Course