5 hours Online Meditation in Nepal
---
Meditation does not care whether you're a novice or an expert, it gives its practitioners the same benefit. Keeping the benefits of meditation in mind, Nepal Yoga teacher training and retreat center has organized the 5 hours online meditation in Nepal. This course is prepared by our seasoned professionals to provide students the basic know-how of meditation and the methods to apply it in one's life. After completing this course, you'll get the vision to witness life from a different perspective and be a step closer to achieve the set target.
When people talk about life in the 21st century, most of them talk about the pinnacle of human advancement and the expansion of technology. Despite these amazing feats, humans have never been more shrouded in voices and disturbance than they ever were. The pressure of the urban commute has led people to lead a monotonous life without any spiritual enhancement.
This lack of inner tranquility causes adverse effects that comprise a decreased attention span, the inability to cope with mental stress, and other mental illness. Luckily, things are not that bad too. Meditation is portrayed by many as a viable option to walk in the pursuit of tranquility and serenity. We are here to develop your inner peace and bliss by means of the course "5 hours online meditation in Nepal".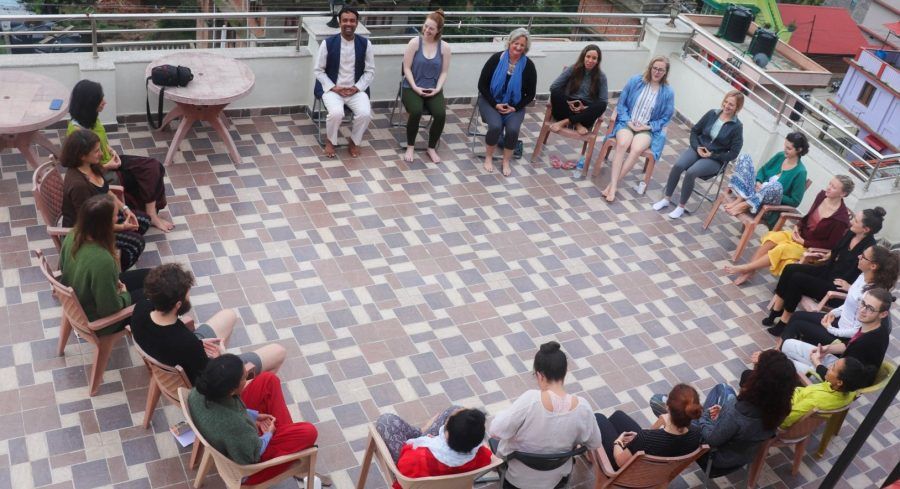 Before you learn about the meditation course in detail, let's bask in the knowledge of what meditation is. The common definition of meditation states that it is a technique through which one trains the mind to be stable and calm. Most people believe in the idea that through meditation they can become a completely new individual.
You might have heard people saying "I'll be a new person once this meditation session is complete". Well, news flash for you, meditation is not about becoming a different individual, it is about enhancing your awareness levels and gaining new perspectives. Meditation can be observed as an umbrella term that covers a variety of other topics as well. For starters, there are as many meditation techniques as there are sports in the world. In this 5-hours online meditation in Nepal, you will learn about them.
What most people don't know is that meditation has close ties to different religions as well. You might have seen pictures of Hindu deities sitting in meditation poses with an expression of relief and enlightenment. The earliest mentions of meditation can be found in the Mahabharata and Patanjali's Yoga Sutras. Buddhism and Jainism have their own type of meditation but the core idea of meditation is followed. Although you might not learn these in detail, you will get a brief insight into meditation and religion in the 5 hours online meditation in Nepal.
Our readers might be wondering, "Does meditation provide any sort of benefits?" Yes, there are countless advantages that meditation provides, and not only that, they are backed by science as well. Meditation has shown to reduce stress levels and aid in controlling anxiety levels. Attention span is greatly benefited by meditation and it is used in fighting drug addictions too. While practicing meditation, you become more aware of yourself and the environment.
Meditation is a wonderful technique that can be used by people to combat the daily struggles in life. Take the 5 hours online meditation in Nepal to learn about it in deep from our seasoned teachers. The methods and process they follow while teaching is one of the best and you will easily breeze through the course. Contact the office for further details.
Itinerary of Online Meditation in Nepal:
Here are the Classes you will get every day:
Day 1 :: Introduction to Meditation and explanation of different meditation techniques included in the course
Day 2::  Meditation to present our mind in here and now state
Day 3 :: In day 3rd we include the Buddha's meditation technique
Day 4 :: Guided meditation techniques
Day 5 :: Mindfulness Meditation technique
Note:
Course "Online meditation in Nepal" will be held in Zoom. We will finalize the training period during the inquiry time. Each day we include 1 hour session and total 5 days for 5 hours Meditation course.
We also, provide on-school yoga Training, Online yoga training and Meditation classes. On-school classes is better if you have time and little extra money to explore beautiful country Nepal to Himalayan region ( Everest base camp or Annapurna Base Camp Trekking)