10 days yoga holiday in Nepal 
---
Nepal Yoga teacher training and retreat center is organizing the 10 days yoga holiday in Nepal, which would be a great platform for you to learn something interesting and new. Rather than a mere holiday, your time here will greatly teach you about the spiritual and philosophical side of life and a new vision to look at things.
It is common nature to look forward to holidays but it's a bit uncommon to plan it well before it happens. The common norm among the local population is that they tend to spend their holidays relaxing and for the most part, slouching it away. The charm of holidays slowly fades into nothingness and what you are left with is no gains accomplished and you are in worse condition than you were previously. Instead of wasting your days' binge-watching series and movies, why not take a moment to appreciate nature and head to Nepal?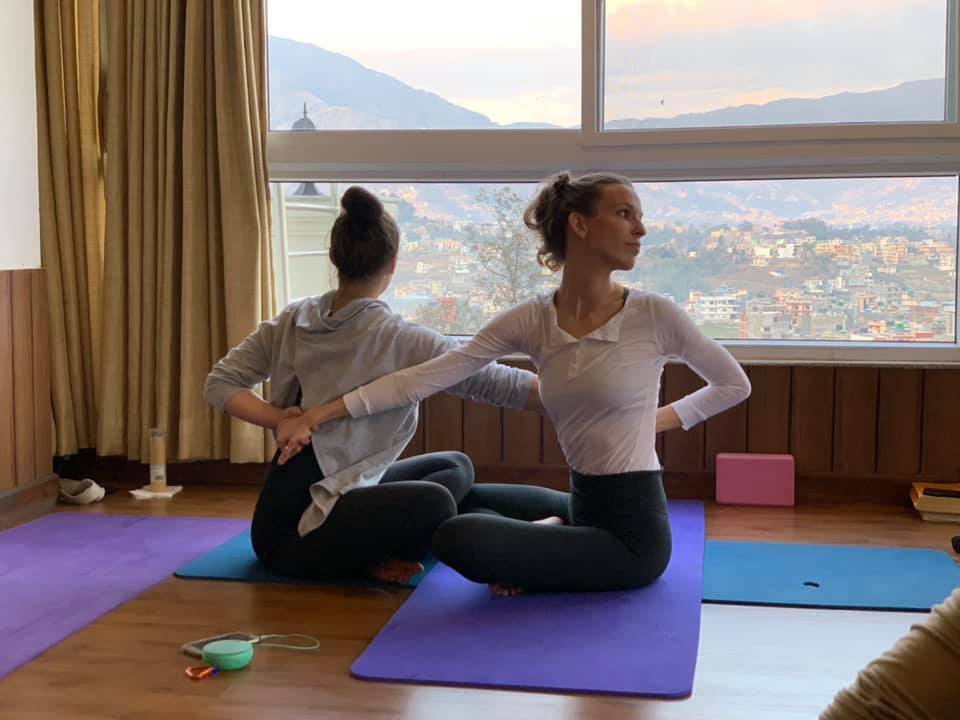 The 10 days yoga holiday in Nepal is more than a holiday. Readers might be wondering as to why are we repeating this sentence. In stark comparison to a mere holiday where you tend to slack, in this holiday, you won't get much time to do that. You will follow a routine that is prepared by our professional teachers and learn the many components and mysteries of yoga.
You might be intimidated a bit but fear not as there are fun factors too! During your time in this holiday, you will learn the history of yoga and the various asanas/poses that form the basic foundation of yoga. It does not matter if you are either a yoga fanatic or a beginner in yoga, this holiday will be a great benefit to you.
The exact schedule of this 10 days yoga holiday in Nepal cannot be determined right now as it depends upon numerous variable factors but the opportunity to learn something useful and new is fixed. The teachers will guide you through the fundamentals of yoga and teach you useful tips and techniques to enhance your meditation prowess. You will be taught about the various sub-topics that form yoga as a whole.
Wait, this holiday comprises not only studying, but you will also explore numerous world heritage sites situated in the Kathmandu valley like Pashupatinath, Swoyambhunath, and Boudhanath. These sites have a certain religious and cultural appeal to them and provide travelers with a serene state of mind. These sites tell a story about the history of Nepali culture and the architecture style in those days. Your mood will be further lightened when you take part in the ayurvedic massage session. The relaxing massage will aid you in many ways.
The condensed description of the 10 days yoga holiday in Nepal does not do justice to the amazing experience that you will experience after taking this holiday. Your time spent on this holiday will be the best moment that you will cherish forever. Who knows, maybe this holiday will ignite your interests in yoga and lead you down to a new path in becoming a yoga teacher. So, pack your bags and go on an adventure of a lifetime!
Schedule of Yoga Retreat: 
Everyday class includes 4 yoga classes related to asana, Pranayama, Contemplation, and yoga philosophy, and lifestyle. Two classes in the morning and two classes in the evening. You will get free time in the day time for sightseeing.
Other Activity you can join on extra cost:
Different trekking and tour packages and yoga meditation retreats are available on extra cost like Annapurna base camp, Everest base camp, Everest Monastery
Singing bowl Training and Healing
Yoga Alliance certified Yoga Teacher Training Course